News
Hello and welcome to the Wrestling Weekly Classic Audio Archive! To go straight to the audio files, click here or click The Archive link on the right side menu. To find out more about the site, click here or click the About link on the right side menu.

RIP Jason "Doc" Young 1974-2017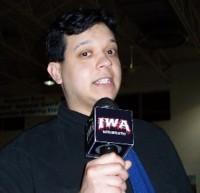 It is with great sadness I have to write that Jason "Doc" Young, creator and co-host of Wrestling Weekly, passed away on April 19th, 2017. He courageously battled a mystery illness of his immune system for many years.
I did not know Doc personally, I was simply a fan of the show who created this site. However, I have had enough email interactions with him over the years to know that he was a great person who loved wrestling, producing, and broadcasting and simply wanted to make his mark in this world. As evidenced by the existence of this site, he accomplished that goal.
This site will continue on as a memorial to the years of memories, great guests, insights, and fun he and Les gave us on Wrestling Weekly, a wonderful show he deserved to be proud of. Thank you, Doc. May you rest in peace. Please visit the links below in remembrance.